Our next journey into France, this time we took a quad to recce on for the 2 days before the rally, and had a service van loaded up with spares and a toilet for Sandra!
 The recce time made a big difference to the stages as now I had experience of driving them, the only problem was that some stages were very similar, next time we will use a pace note system to avoid mishaps! Two days of driving around on a quad was great fun, we almost forgot that there was a race on!
Friday was do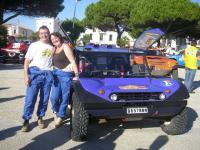 cumentation & scrutineering, both passed off uneventfully with the car going into park ferme in Royan Friday night.
Saturday morning, we were off about 1 hour after the opening cars so the heavy dew on the grass had time to go. The first stage was still slippery, with the tracks through the trees still wet. We drove the stage without notes, just as we would do a UK event and got the scratch time by 0.2 seconds! That must have shocked a few regular racers!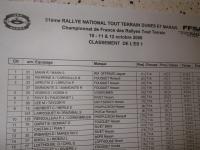 The next stage was slower, the ground was now drying and the lack of notes starting to show. At re-classification we were running car 7 on the road so had improved our position
By the end of the first day we were lying 10th, fastest Brit car with no problems.. roll on Sunday!
Sunday morning was dry, without the early morning dew, which gave us a disadvantage as rally tyres could be used! We struggled through the morning stages, dropping time to some of the other brits. Going into the last spectator stages we were level with Tim Dilworth in his Peugeot 206. Two very committed runs saw us take a lead of 7 seconds to finish 13th overall out of 130 starters & first Brit motor home. We also won the class T1A2, netting a 200 Euro cheque which covered the beer bill for the week!
Start Slide Show with PicLens Lite

Filed under: Racing in France on August 31st, 2008