I've been slowly getting the car to French racing spec, Soissons on the 9th-11th May will be our first venture in France. Sandra is a bit worried about the navigating, but as she spends all her life organising where I should be and at what time this willl come naturally!
As we don't have a quad or dirtbike to recce with, I'll be taking the world's scabbiest mountain bike; this will probably be tied to a railing and left for next time!
Race Day!
Trying to recce on a mountain bike was a big mistake! The weather was 28 C, and the stages very hilly! Next time I'll take a cros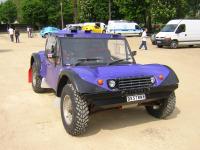 ser.
Friday was Documentation and Scrutineering day, the car passed the FFSA approval OK and was issued with a French log book.
This is the car ready to be stickered up and go into the scrutineering tent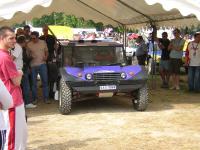 Scrutineering, I was crapping it!
The rally started with a very fast stage taking in tarmac, 2 straights on farm tracks in a field that were 1 km long, a wood and other fast twisty tracks. Just the sort of variety I like! We put in the 11th fastest run which made a few people take notice! At one point we were on the rev limiter for 500m at 110 mph, the car would have gone even faster if the gearing was there!
Stage 2 was run through woods with a bit more tarmac, we dropped some time here as I had not recced this stage well & was cautious through the woods. At Reclassification we were running 11th on the road, an amazing result for our first rally!
We finished the day in 17th position, the only damage to the car being a buckled wheel rim from hitting a concrete block on a corner.
Sunday's stages started with a 12km blast, 1.5km from the start being on tarmac, through a village!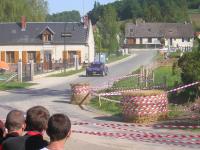 Would they allow this in England? I don't think so!!
Again the car was on the limiter, the tyres worked reasonably well on tarmac, they slid about a bit, but this was predictable and fun to drift the car sideways. The brakes got too hot on one stage & faded, the discs were bright blue when we got back to service. I must thank the Mitchell Bros, Steve & Richard for servicing the car & keeping the driver & Nav fed, we would have been stuck without them.
After the rally finished we were 11th overall, an amazing result for our first time out! The French rally bug has bitten badly now, we are going to enter Dunes & Marais in October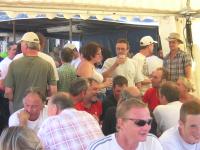 A well earned beer after the finish!
Start Slide Show with PicLens Lite

Filed under: Racing in France on April 14th, 2008